Kuala Baram Yard
New Constructions
Facilities
Specification
Capacity/Type
Slipway
3 x 100m
1,800 dwt
Pier
60m
Products
Tug
100 tonnes BP, up to 70m
General Cargo
Bulk fuel/ Container
AHTS
100 tonnes BP, up to 70m
OSV
up to 70m
PSV
up to 70m
Seismic Support Vessel
up to 70m
Offshore Survey Vessel
up to 70m
Oil Recovery Vessel
up to 70m
Offshore Crewboat
Aluminium, up to 50m
Passenger Vessel
Aluminium/Steel
High-speed patrol/ interceptor
Aluminium, 50 knots
Pilot Boat
Aluminium/Steel, 30 knots
Design Capability
Production & Concept Design
Annual Production
Up to 10
Yard Area
61,000 m2 with 25,000 m2 under shed
Piasau Yard
Repair & Conversion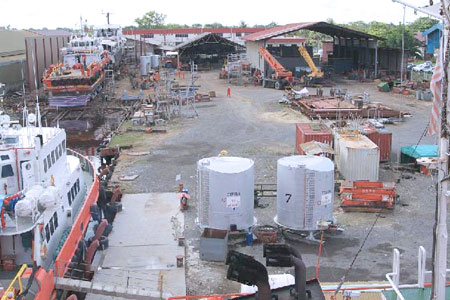 Facilities
Specification
Capacity/Type
Docking Slipway
1 x 80m
1,800 dwt
Pier / Repair Berth
70m
Yard Area
25,000 m2 with 4,000 m2 under shed
---
It is best to make an appointment to ensure that we can be available to meet with you.
Taking a cab is the most convenient way to reach us.
Driving is equally convenient. Please refer to the GPS coordinates or map on our contacts page. Please follow our guard's instruction when you arrive.
Safety Information
If you intend to enter our production or repair site, please dress appropriately following standard safety practices. Visitor's safety helmets are available. Other PPE such as safety boots and coverall or vest are minimum requirement.