Customer Information Portal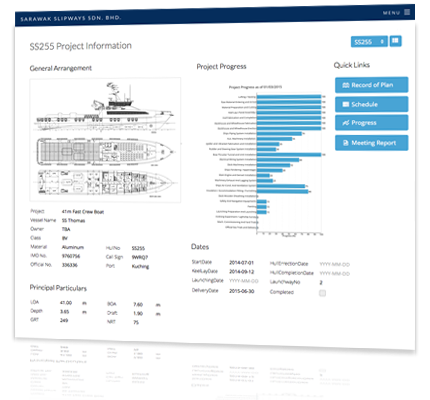 New customer can now access project information, current progress and reports at any time via our Customer Information Portal (CIP).
This portal serves as a convenient way for you to see the progress and access a summary of the project information as well as details such as drawings, reports, punch lists and progress photos.
Vital information our engineers and supervisors use and generated are shared with you to keep all parties informed. While monthly report will still be made, live information is invaluable especially when the project completion nears and many parties are involved concurrently to finish their tasks.
Access Anywhere

CIP uses web technologies, which means you can access you project's information from any devices that has a modern web browser1 and internet access.

Centralized Information

You can now access your projects drawings, equipment lists, reports and other key information all at one place.

Live Progress

You can now monitor live progress of your vessel under construction. The CIP progress is updated daily from the internal information system our engineers uses.

Progress Report

Monthly Progress Report will be made available here for download and reading.

Drawings Download

Working and As-Built drawings will be made available for download and viewing.

Progress Photos

Progress Photo of your project will also be made available for viewing here.
Your login username and password will be sent to you. Your access is free and will remain valid until your vessel is completed.